HAVING A HARD TIME TEACHING YOUR KID HOW TO BRUSH THEIR TEETH?
LET YOUR CHILD FALL IN LOVE WITH TOOTH BRUSHING!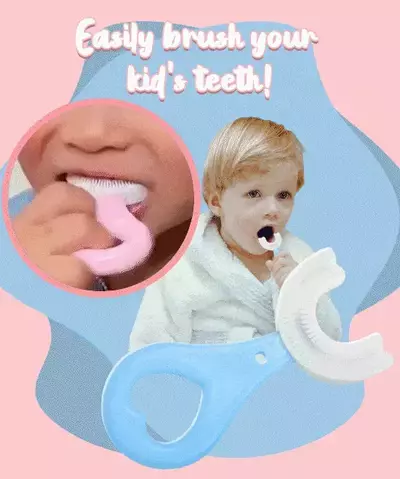 THREE SIDES OF 8 LAYERS OF BRISTLES SURROUND AND CLEAN DEEP INTO THE TEETH - EFFECTIVELY CLEANING STAINS INSIDE AND OUTSIDE THE TEETH.
With its U-shape brush head, All Rounded Children U Shape Toothbrush can clean around a tooth without worrying if there's a missed spot on your child's tooth!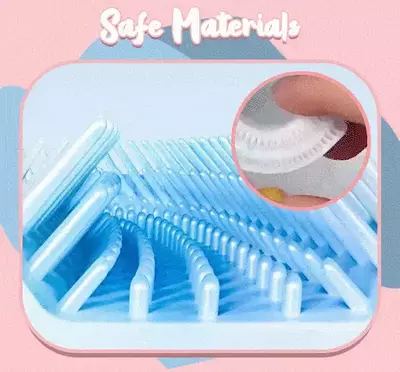 Brushing teeth with a regular toothbrush can be a pain for kids, which leads to bad breath and unhealthy teeth.
This All Rounded Children U Shape Toothbrush will definitely help you teach your kids how to properly brush teeth and have a healthy mouth!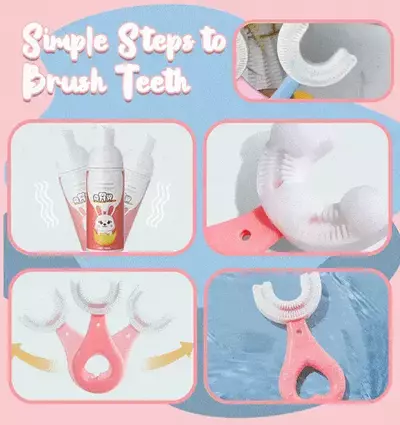 Specifications:
Color: Blue, Pink
Material: Silicone
Size: 4.72 × 1.97 in; 3.54 x 1.97 in
Recommended Age: 2-12 Years Kids
Package Includes: 1 × All Rounded Children U Shape Toothbrush
Why U Shaped Toothbrush Is Loved By Adults and Kids
The biggest advantage of the U-shaped toothbrush is that it can completely wrap the teeth in 360 degrees, and the contact area between the brush head and the tooth surface is 20 times larger than that of ordinary toothbrushes. 
Therefore, the cleaning efficiency is equivalent to 20 toothbrushes working at the same time. People use ordinary toothbrushes to brush their teeth at a time. It takes at least 2-3 minutes, and it only takes 55 seconds to use a U-shaped toothbrush, which greatly saves brushing time. At the same time, it also has practical functions such as sonic vibration to massage the gums.
For children aged 2-6, they use ordinary toothbrushes. Because their bristles are hard and they have not fully mastered the brushing method, it is easy to sting the gums or oral mucosa, which makes most children resist brushing their teeth, which leads to oral cavity such as tooth decay. Health issues.